Reflections from a recent FSU HESA alumna
It's been nearly five months since two of my cherished faculty members, Brad Cox and Kathy Guthrie, carefully placed a master's hood around my neck. On May 13th, 2013, my M.S. in Higher Education was conferred in an intimate and heartfelt ceremony, where each student (now master) crossing the stage was more than a classmate, colleague, or friend. Over the course of the last two years, these men and women became my confidants, my inspiration, and my family. We only had one night left, as so many had plans to begin their next step the following morning. Goodbye was too hard, so we instead exchanged our "see you soon's."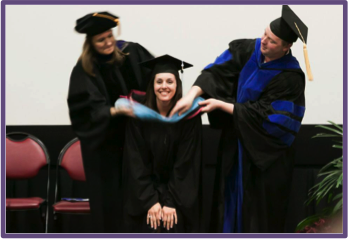 And we did--not always in person, but we have remained connected with one another since leaving our second homes in Tallahassee, FL. We may be all over the country (the world in some cases), but we're also in each other's minds, hearts, and sometimes cars. While leaving behind #sagrad has had its fair share of challenges, the transition to #sapro has been a good one.
Jessica G. Dean, Student Services Program Coordinator
Department of English, Clemson University
Although I only have one title, I wear many hats—even at a large, public institution like Clemson. My responsibilities include academic advisor, internship coordinator, study abroad know-it-all, alumni outreach coordinator, scheduler of over 200 sections of English courses, and Solid Orange Friday supporter (see right). Jumping straight into orientation advising only two weeks after my arrival on campus, I have learned that, just as in graduate school, it is all about maintaining balance among my various responsibilities. I'm still serving as an advisor to my Greek organization, taking care of my sweet puppy, Riggs, and trying to get in as much daily exercise as possible. It hasn't exactly gotten any easier, but I continue to have supportive influences in my life to help, both in and outside the office.
Last week, I experienced my first national conference as a professional. It was both different and familiar. It was the first conference I attended where I didn't have a colleague to attend sessions with, so I made connections with people I met along the way, which challenged the introvert in me unlike previous conference experiences. It was also the first conference where I had a job description directing me toward sessions rather than my general student affairs interest areas. It was FANTASTIC! If you were following my tweets on the #nacada13 backchannel, you probably already know that I enjoyed myself. Now that a week has passed, I look forward to maintaining the connections made and getting more involved with NACADA as a professional.
Five months later, I still wouldn't say that I'm completely settled into my apartment, community, or position, but everyday I feel a little more at home. Go Tigers!!